Aritco HomeLift Access
Our new and improved Aritco HomeLift Access has been developed from our popular 6000 model, one of the most flexible lift models that we offer, slightly larger than our 4000 model and therefor suitable for up to 6 people. This lift has 8 platform sizes and takes up to 500kg, ideal for bariatric and electric wheelchair use as well as travel with a carer. This particular lift can have doors on 3 sides, and is available with up to 6 stops (13m).
About
The Aritco HomeLift Access has been designed by our parent company Aritco, who have developed the lift to be energy-efficient with low power usage and operating costs – using as much energy as a kettle or hairdryer. We are proud to say our lifts made up of up to 95% recyclable materials, and with much development, the goal is to become 100%.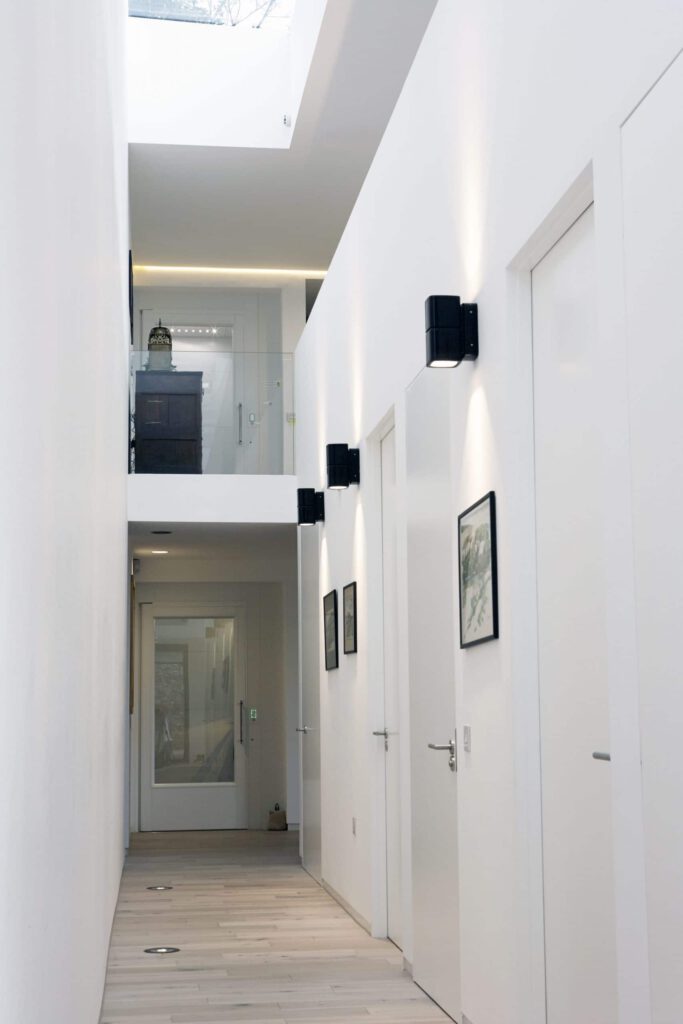 Having a home lift opens up possibilities for users, adds ease to lifestyles and can future-proof forever homes, that's why the Aritco HomeLift Access comes with a wide range of finishes, configurations and options & additions to match any home. Using our patented screw and nut technology, the lift is driven via an energy efficient electric motor, all of which is integral, therefore no separate machine rooms or pump boxes are needed, making it a quiet and efficient option.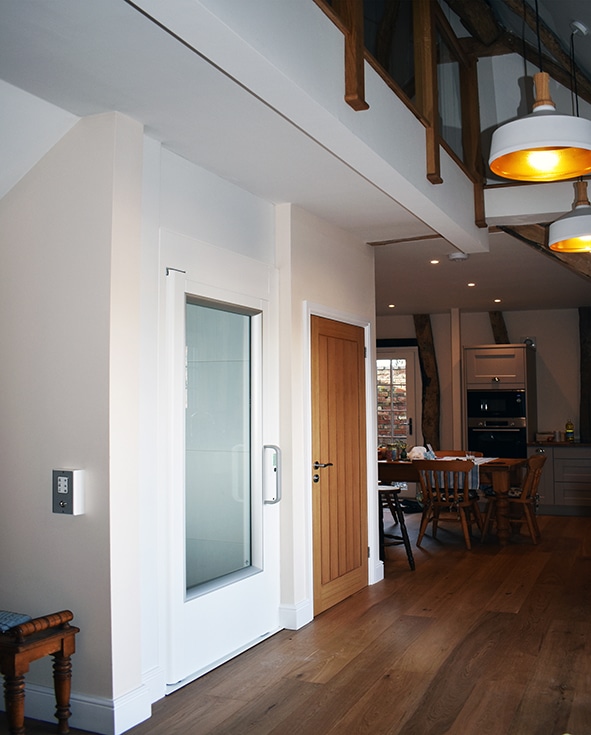 Furthermore, it's been designed specifically for the home and therefor all features have been created to offer an easy user experience, with a fully lit control panel of buttons – all easy to use (and if ever in doubt, Gartec Home are always here and happy to help). We also know how important safety is and that's why our lifts include features such as; safety edges around the platform, locking doors, emergency battery lowering and a telephone or autodialler in the lift.
We have worked with Architects, Contractors and Homeowners for over 25 years and frequently our customers continue to go on to choose a home maintenance plan for extra peace of mind – we have a nationwide pool of trained and experienced service engineers who continue to maintain domestic lifts, please see here for further information.
Features
Multiple lift sizes
Shaft enclosure supplied with lift
Glazed or solid shaft panels
Doors on up to 3 different sides
Single or double glass, half height gate or fire rated doors available
Safety edges around platform
50mm pit or ramp
Integral electrical cabinet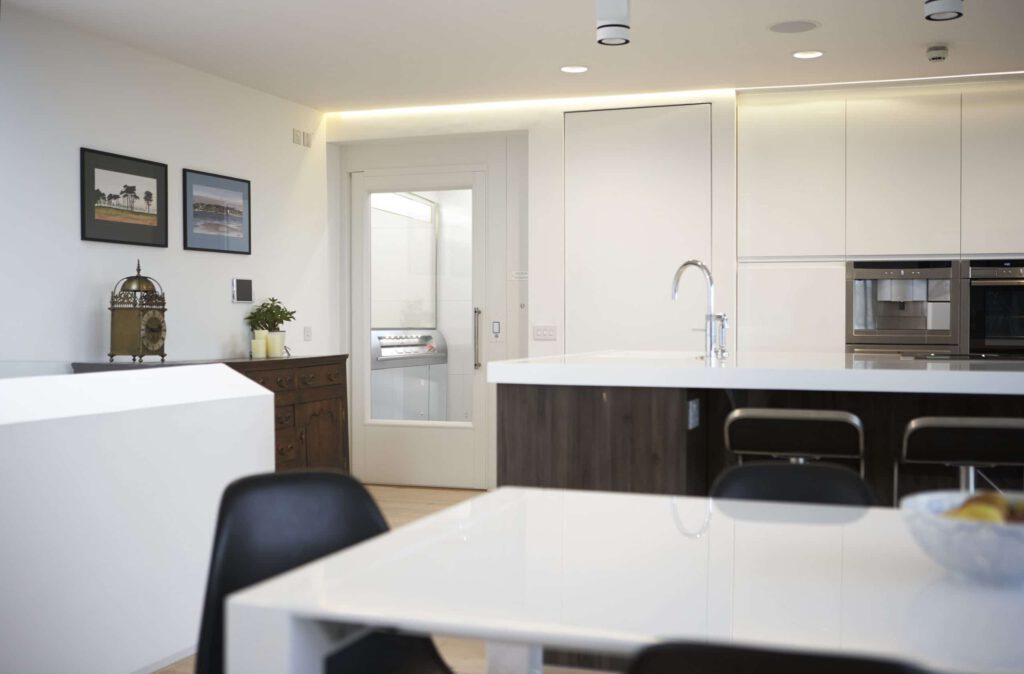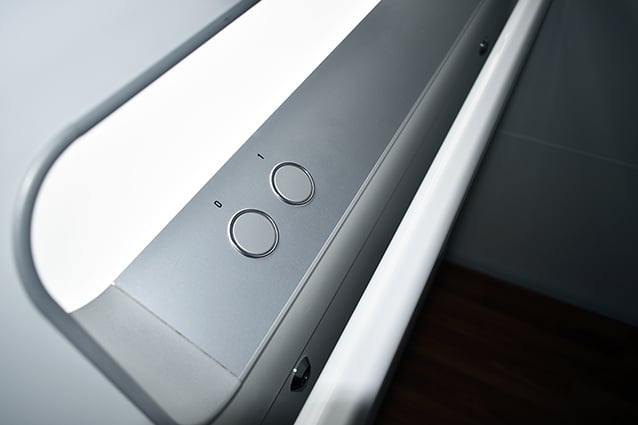 Benefits
Optimal design and size with a wide range of finishes
Made using up to 95% recyclable materials
Energy efficient (low power usage)
Patented screw/nut technology
Low maintenance and operating costs
Minimal building work & quick installation
Self-contained unit (no separate machine room)
HOW DO ELECTRIC PLATFORM LIFTS WORK?
Vertical platform lifts are contained within a shaft. This shaft has guide rails along two corners of the shaft which help to guide the carrier, which is generally an L shaped platform attached to a mast. When using an open platform lift, the walls remain in the same place as the platform raises or lowers.
There is a wide range of electric, hydraulic, and mechanical platform lifts, including enclosed cabin lifts, industrial vertical platform lifts, and even hidden platform lifts. Cabin platform lifts work in the same way as normal platform lifts but, rather than having an L shaped carrier, the platform is contained within a box to give the feel of a conventional lift.
In order to use an open platform lift, applying continuous pressure to the up or down buttons will allow the user to reach their destination. From the outside, using a single touch button will call the lift to the floor. For enclosed cabin lifts, rather than having to apply continuous pressure, a single touch button will be found inside that can be used to bring the user to the correct floor.
Sustainability
Using steel, aluminium, glass and as little plastic as possible allows for recyclability of almost all the materials that are needed to manufacture Gartec lifts, with up to 92% of the materials used already from recycled and sustainable sources. All that is left which is non-recyclable are parts of the electrical cable system and the battery. Aritco, our parent company are constantly developing our lifts and as battery technology changes, our lifts will be developed to incorporate recyclable batteries.
With rigorous development to achieve maximum recyclability and the forward thinking on materials, manufacturing processes and new technology we are always looking to provide the most eco-friendly lift solutions. We are proud that every step taken from Design to Installation, sustainability and energy efficiency has been factored into the process.
When considering energy efficiency in your home, Gartec lifts are powered by a 2.2kw motor which uses less energy than a standard domestic kettle or hairdryer. Similarly, the low-energy LED lighting and display components all contribute to a more sustainable and greener solution. View our energy-efficiency brochure for more information.
Technical details
To see further technical details please download our brochure or contact us to discuss.