Aritco PublicLift Access Goods Option
The Aritco PublicLift Access Goods Option is based on our most popular model, the PublicLift Access but can have additional safety features such as a steel kerb edge and increased lifting capacity to 500kg. The lift is certified for use by passengers and light goods.
About
The Aritco PublicLift Access Goods option is designed for easy, fast and safe light goods use, including protective features and higher weight limits to handle trolleys. Our in-house engineers install the Aritco PublicLift range in as little as 2-3 days, and the modular structure is delivered to site on the day you pick.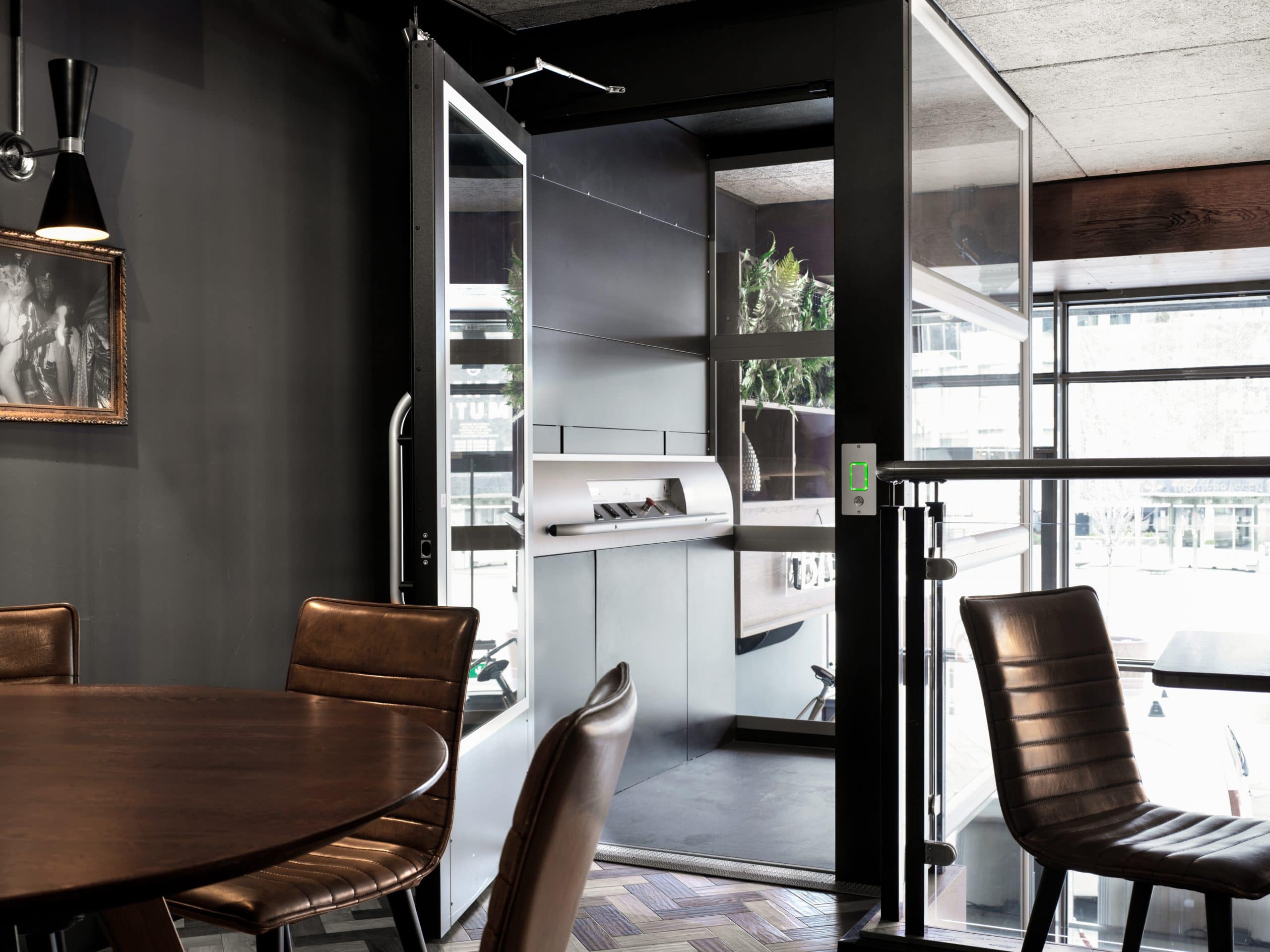 The PublicLift Access Goods Option is based on our versatile Aritco PublicLift Access, but is designed to carry goods as well as passengers with a raised kerb for lift wall protection. It is a perfect combination of commercial lift features that allow for use as both a goods lift and a passenger platform lift, meaning safe transportation between floors. The call and send function is ideal for goods, meaning no attendant is required. The lift uses a modular structure to reduce delivery and installation time, needing only a load bearing footprint and no major building works on site.
Our patented screw and nut drive system offers a safe, quiet and environmentally friendly solution, running up a mast behind the platform. Completely self-contained, the Aritco PublicLift Access Goods Option eliminates the need for a separate machine room (read more about Machine Room Less Lifts here) or pump box housing, ideal for restricted or listed buildings.
FEATURES
Minimal builders work compared to conventional goods lifts
No head fixing required
GL door as standard, or fire rated door (optional)
Higher lifting capacity for goods
Protective trolley kerb around platform if required
50mm ramp or pit
Benefits
Optimal design and size with a wide range of finishes
Made using up to 95% recyclable materials
Energy efficient (low power usage)
Lowest maintenance and operating costs on the market
Minimal building work & quick installation
Self-contained unit (no separate machine room)
Certified passenger and goods usage
Increased lifting capacity
Specification
Type of Lift
Light goods & passenger enclosed platform lift intended for use in public & commercial environments
Compliance
European Machine directive 2006/42/EC
European standard EN 81-41
Drive System
Patented screw/nut system
Rated Speed
Max 0,15m/s
Travel Height
250mm – 13,000mm
No. Floors
2-6
No. Doors per floor
Max. 2 doors per floor
Pit / Ramp
50 mm (no pit is required when there is a ramp)
Entry
One, two or three sides
Top Height
Minimum 2240 mm. Maximum 4000 mm.
(1100-1600 mm with half height door)
Platform Controls
Hold to run, the destination button must be
kept pressed down during the whole journey
Landing Controls
One touch call, single press operation
Environment
Internal / external
Emergency Lowering
Battery operated emergency lowering
Control Voltage
24V
Motor
2.2kW
Door Locking system
Electrically operated deadlock
Power supply
1-phase 230V 50 Hz 20 A type C MCB
3-phase 400V 50 Hz 20 A type C MCB
Rated Load
410 or 500 kg (500kg is 3 phase power only)
(dependent on platform size)
Enclosure
Solid panels or glass (optional)
Doors
GL Full height door as standard EI60 fire doors (optional), half height available (under 3000mm travel only)
Additional Features
Certified for light goods / higher lifting capacity