Aritco 9000 Cabin Lift
The Aritco 9000 Cabin Platform Lift is a functional, low cost and reliable enclosed cabin platform lift which is a great alternative to a conventional lift for almost any project. Fully compliant with Part M and the Equality Act and ideal as a wheelchair lift or access lift, the Aritco 9000 cabin lift offers a familiar surrounding with quick installation.
About
The Aritco 9000 enclosed cabin lift is a simple, cost effective and efficient direct replacement for a conventional lift, combining the best of both worlds and making it ideal for the accessibility and disability markets. The Aritco 9000 uses a modular structure to reduce delivery and installation time, needing only a load bearing footprint and no major building works on site.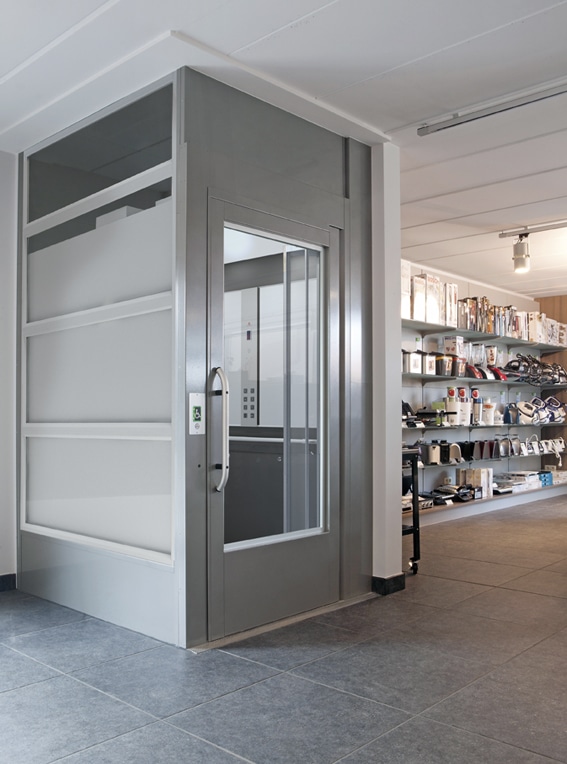 The Aritco 9000 cabin platform lift is completely contained within the supplied lift shaft, and operated using our patented nut & screw technology, with a mast running behind the platform. The lift doesn't require a machine room or pump box housing, meaning a one off installation will solve access needs immediately. Operation of the lift is through a single touch button on the platform, and for calling the lift to the floor.
Features
Up to 13m (6 stops) with up to 3 doors per floor
Enclosed cabin (for open platform lifts see Gartec PublicLift Access)
2 platform lift sizes
75mm pit or ramp
No head room, machine room or pump box
Quiet and energy efficient lift
Internal wall designs and shaft RAL colours
8 flooring options
Enclosed Cabin Platform Lift or Conventional Lift?
The Aritco 9000 commercial lift brings together great technological advancements to give a conventional passenger lift feel, helping users to feel more secure in a recognisable environment – whilst offering a shorter lead time and much lower cost.
Single touch buttons throughout
Outer and inner doors
Enclosed cabin – the walls move with the passenger/platform
HOW DO ELECTRIC PLATFORM LIFTS WORK?
Vertical platform lifts are contained within a shaft. This shaft has guide rails along two corners of the shaft which help to guide the carrier, which is generally an L shaped platform attached to a mast. When using an open platform lift, the walls remain in the same place as the platform raises or lowers.
There is a wide range of electric, hydraulic, and mechanical platform lifts, including enclosed cabin lifts, industrial vertical platform lifts, and even hidden platform lifts. Cabin platform lifts work in the same way as normal platform lifts but, rather than having an L shaped carrier, the platform is contained within a box to give the feel of a conventional lift.
In order to use an open platform lift, applying continuous pressure to the up or down buttons will allow the user to reach their destination. From the outside, using a single touch button will call the lift to the floor. For enclosed cabin lifts, rather than having to apply continuous pressure, a single touch button will be found inside that can be used to bring the user to the correct floor.
Our Gartec 9000 cabin lift is most common in gyms, hospitals, retail and commercial buildings, but can be tailored to suit any space. All our commercial lifts are supplied with a 12-month warranty as standard, and we offer a range of maintenance and service packages, which can be tailored to suit your specific requirements.
Specification
| | |
| --- | --- |
| Drive System | Self-sustaining patented screw/nut system |
| Rated speed | 0.15m/s |
| Landing control | One touch call |
| Platform control | One touch run |
| Technical Compliance | European machine directive 2006/42/EC |
| Rated load | 400 kg/5 persons |
| Number of stops | Max. 6 |
| Number of doors | Max. 2 doors per floor |
| Pit / Ramp | 75 mm pit (or 75mm ramp) |
| Environment | Indoor only |
| Power | 3-phase, 400V, 50Hz, 18A supply |
| Emergency lowering | Automatic lowering from car |
| Control supply | 24 V |
| Motor | 3.0 kW |
Measurements
Cabin Sizes (WxDxH)
1000 x 1400 x 2100mm
1100 x 1400 x 2100
Structural Opening Width
Cabin width +465mm
Structural Opening Depth
Cabin Depth +230mm
Headroom Req.
2400mm
Travel height
2150-13000 mm
Doors B Side (opposite mast)
+25mm on all width dimensions