Gartec Step Lifts – The Key to Greater Accessibility
The Gartec range of step lifts, also known as a short-rise lift or vertical platform lift, are an ideal application for any public building. We all know the difficulty that wheelchair users, pushchair users, and people with mobility impairments have navigating public spaces that are simply not accessible, which is why an electric step lift is the perfect solution to improve public access to all areas for all.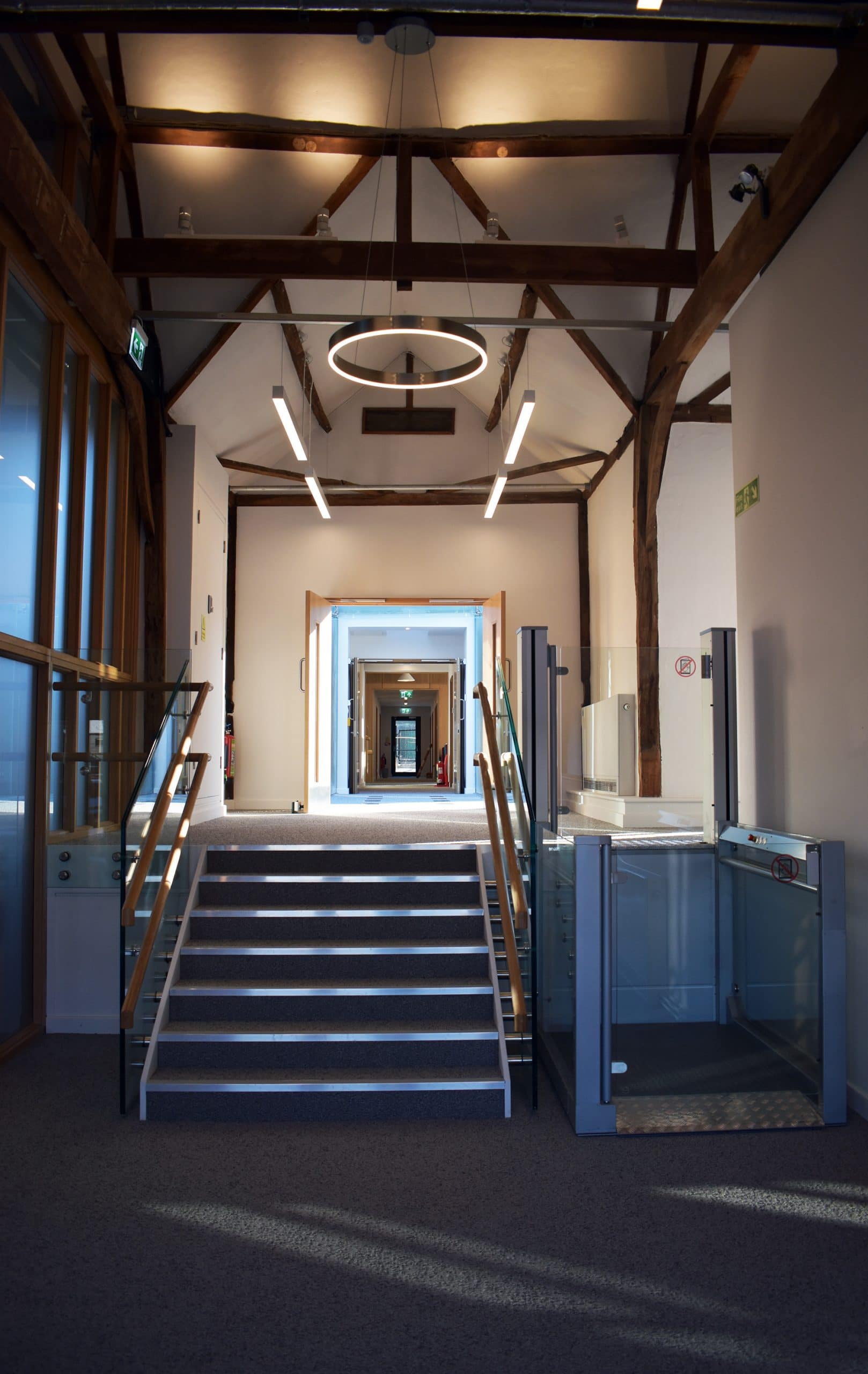 About Gartec Step Lifts
The Gartec electric-powered step lift is a commercial lift that can be installed for indoor and outdoor use, and even features simple to use constant pressure controls, an emergency stop button and manual lowerin, so wherever the need for easy access for a change in level where a full-scale lift would be too much, our high quality electric motor step lifts can accommodate the needs and requirements for all who need it. 
Designed to be a neat and compact solution to accessibility, our experts in lifting solutions here at Gartec are able to completely install your new small step lift in as little as two days in the minimally disruptive ways possible. This means that you won't have to suffer with continuous building work for days on end. 
Our lifting engineers have over 25 years of experience in providing high quality solutions for accessibility throughout the UK, so they are able to offer a vast range of bespoke lift configurations and options. Whether you're looking for a more cost-efficient high quality solution to access, or something more avant garde, our designers can help to make your vision come to life. 
Looking for quality access solutions throughout your building? Gartec will be proud to offer support every step of the way. From design consultation, installation, and throughout the lifetime of your brand new lift, Gartec will be by your side for whatever you need.
What is a Step Lift?
From one-step wheelchair lifts to internal step lifts that have a lift height of up to 3 metres, hydraulic step lifts are designed with short travel in mind. Where a full-scale lift would be inappropriate to travel a small distance, like a half-staircase, a hydraulic step lift offers a compact solution to provide wheelchair access throughout a building. A hydraulic step lift, complete with moving steps if required, provides a secure gangway between the lift and the area needing improved accessibility. 
As we only use the highest quality parts and materials, Gartec is able to supply and install step lifts that are guaranteed to be top quality, and the most professional suitable solution for the job. 
Gartec step lifts for wheelchair users and others with mobility issues are available for installation in commercial or domestic buildings, and they can be installed within two days, and as well as internal step lifts, we also provide external step lifts for disabled use. This means that, wherever you need to improve accessibility, whether it's the front door of a building or the staircases in your building, you can provide a fast and safe method of efficiently navigating the property.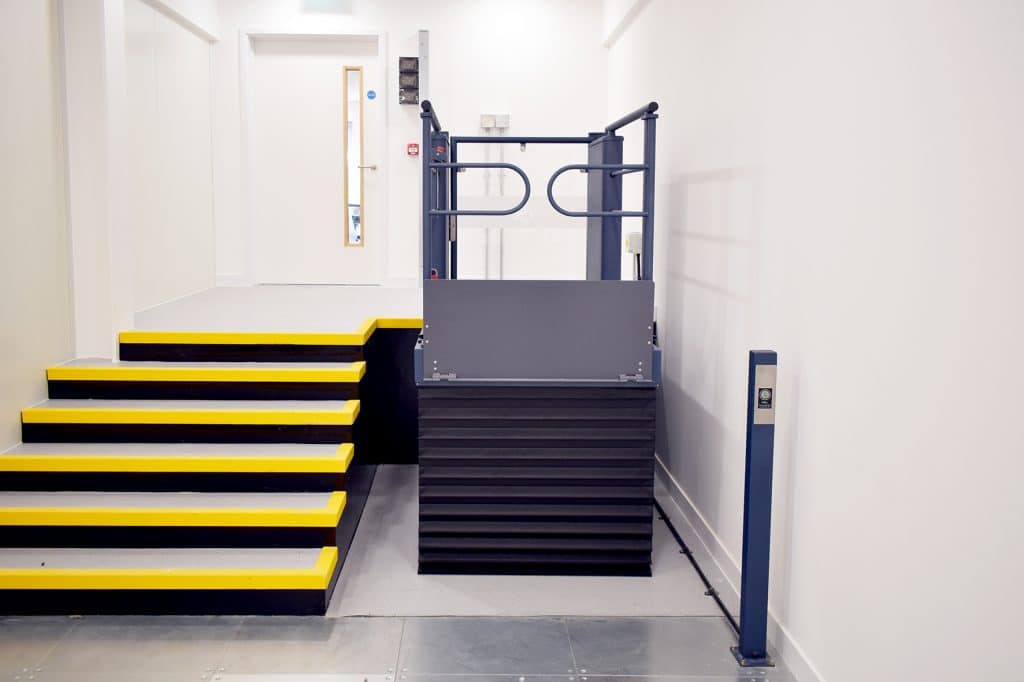 The Gartec 3000 Step Lift
Having the ability to access a building independently is of great importance to many people, and Gartec makes this easier than ever. We offer high quality step lifts for disabled people, and those with mobility issues with the installation of the Gartec 3000. 
As an ideal compact alternative to a ramp or a conventional lift, this space saving step lift offers a reliable and compact solution for wheelchair access as a domestic or commercial lift that can travel up to 3 metres with maximum efficiency. And when you choose the Gartec 3000 Step lift, we offer a wide selection of platform sizes and finishes that can suit all environments and budgets.
Benefits of the Gartec 3000 Step Lift
A belt drive system that boasts efficiency and minimal noise

Low requirements for maintenance

Cost-effective operational costs

Minimal building work required during construction

Speedy 1-2 day installation 

A wide range of finishes available
Special Features
Can travel from 600mm, all the way up to 3000mm

Constant pressure controls illuminated for ease

Remote call station

If being used internally, a pit option is available

A sleek completely free standing design without the need for an unsightly enclosure of support tower
Safety Features
The safety of our users is paramount at Gartec. User safety, comfort, and accessibility is a key element when considering the design of the Gartec 3000 step lift. This model features a full platform safety edge, emergency battery backup, proximity sensors, interlocked gates, and many more safety features that ensure the safety of the user, and anyone located around the lift.
Specification
Rated Load
400kg
Environment
Internal or External
Speed
0.15m/s
Power req.
1-phase, 220-240V, 50Hz, 16A
3-phase, 380-400V, 10A
Drive
Belt driven
Machine room
Integral to guide rails
Controls
Constant pressure push buttons (illuminated)
Option for single touch landings
Gate
Frameless half height gate
No. Stops
2 stops with 1 door per floor
Operating Temperature
-10 °C to +40 °C
Finish
White as standard
Any RAL or brushed stainless steel finish options
Measurements
Platform Size
900 x 1400mm
1000 x 1400mm
1100 x 1400mm
Overall Footprint*
1200 x 1639mm
Travel Distance
600mm – 3,000mm
Gate Height
1100mm
Pit Depth (optional)
75mm
Please Note: different arrangements may require side clearance. Please get in touch with specification for site specific measurements.
Contact Gartec For Better Accessibility in your Property
We know that accessibility is of utmost importance, especially in public spaces. When you choose Gartec, our experts can ensure the installation of your brand new step lift in as little as two days, with minimal building work required. Our lift engineers have been in the business for over 25 years, meaning that they have years of experience in the installation of high-quality lifting solutions throughout the UK. Need proof? Why not check out our case studies? 
For a high-quality and cost-effective solution to accessibility in properties domestic and commercial, get in touch with Gartec today.